Preparing for the 2012 MotoIQ Pacific Tuner Car Championship Series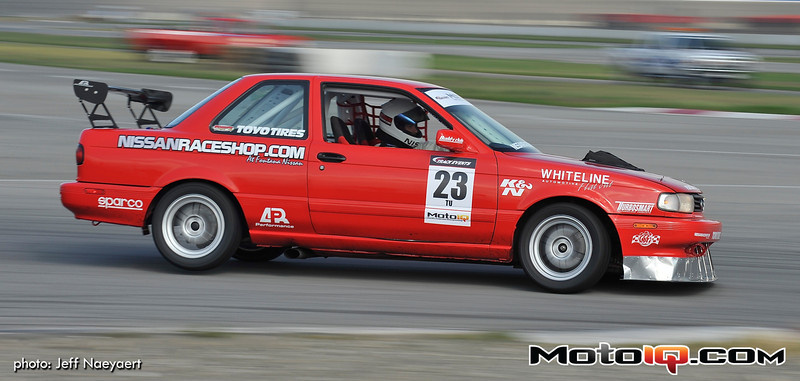 Project SHART — A Victim of Murphy's Law or Just Lucky?
"There Are No Problems…Only Opportunities"

We've come to the conclusion that 2011 was not our year.  A new platform, a newly sorted car, working the bugs out, an unexpectedly short season, and working on a tight budget.  There were many factors that led to our successful and unsuccessful season, depending on how you look at it.  Sure, we didn't get much testing in…actually, we had zero testing.  The car ran two MotoIQ events resulting in two DNF's.  The success…we learned a lot.  We learned how to build a car with parts that weren't supposed to be in it.  We learned what to do and what not to do.  I learned a lot as a driver about the driving dynamics when going from an AWD platform to the new FWD platform.  We learned to work within a particular budget and to deal with the time constraints given to us.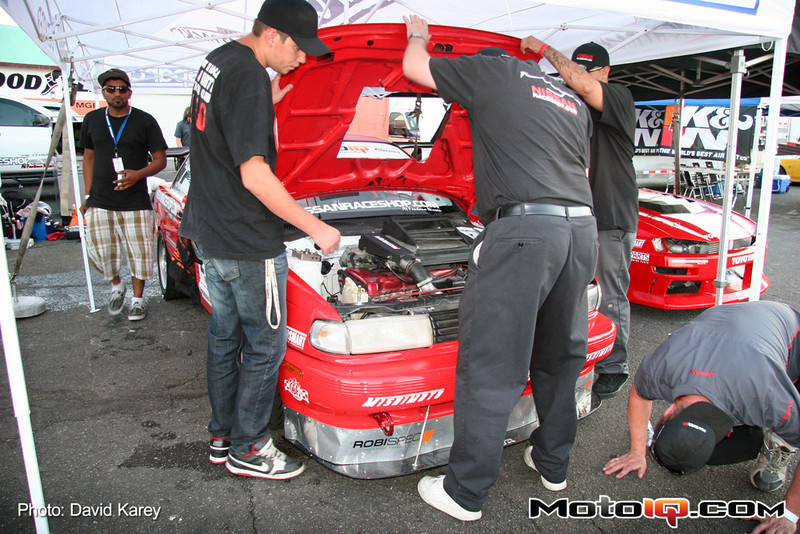 After a long break…we were able to sit back, and reflect on the previous year and take what we learned and apply it to preparing the car for the new season.  A new season is a new opportunity to succeed.  I will never forget what an old co-worker told me back in the days of working at Marlboro Racing.  A little Italian guy named John Allegretti, busted his butt cooking our meals every day with a smile and told me, "Scott, there are no problems…only opportunities!"  As many times I've wanted to throw my hands up and give up…I always end up thinking about what my good friend said and look for the opportunities!  Although, I will admit…I'll usually bitch about it for a day or two before I get to that point!

Ending the 2011 season with a blown turbo and empty pockets…I took a short break to re-organize and figure out a way to come back.  We are now in 2012, and the season is only a short time away…and now its time to do some work.  We have decided that the best way to make use of the car, get some seat time, and please our sponsors, was to get the car out of the track…and often.  We will be stepping up to the Tuner Over class so that we can take the 90lbs of weights from the trunk area and turn up the boost.  Having the extra power will help up to cross train and be more competitive as we pull double duty and compete in some Time Attack events this year as well.


We are currently focusing on these key areas for the car:


Suspension and Braking: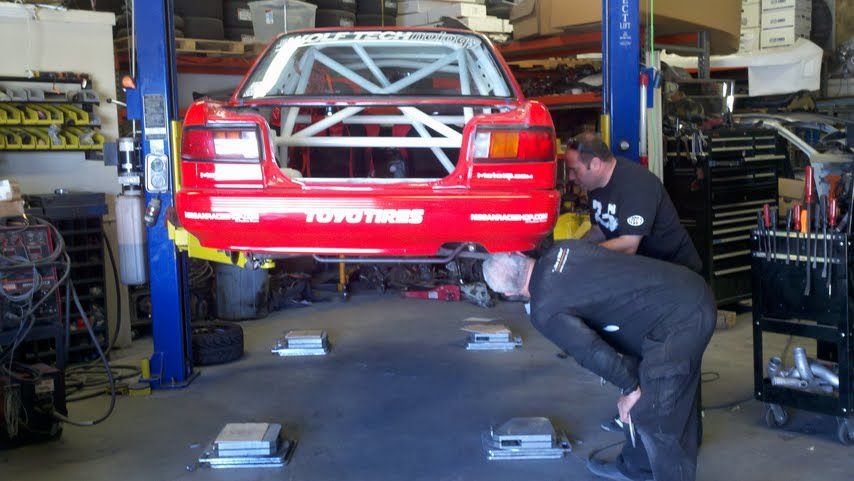 We have teamed up with KSport Suspension this year and installed a set of their Version RR Coilovers.  These are their top of the line Road Racing setup with inverted monotube shocks.  These included adjustable top mounts and rebound adjustments as well.  We brought the car to Robert "Robi" Fuller, chassis setup phenom and the brains behind Robispec.  Robi was able to align and corner-balance the new coilovers and give us a final weight that we could now use to determine the power level for our class.  He also went over the entire setup in order to make everything work together as a whole…and of course threw in a few tips as well…if the car does this..do that…if you want it to do this…do that. Oh, and take my Geo Metro and get us some pizza…i'm hungry!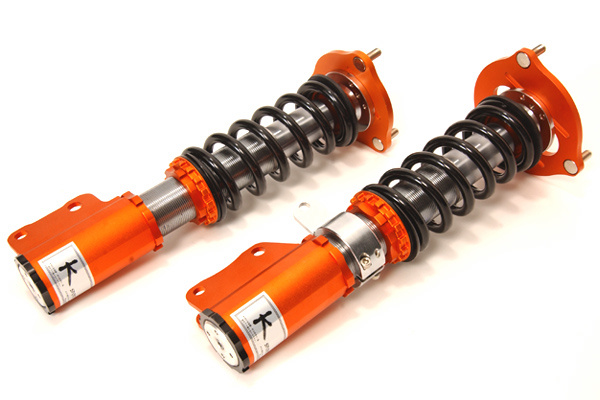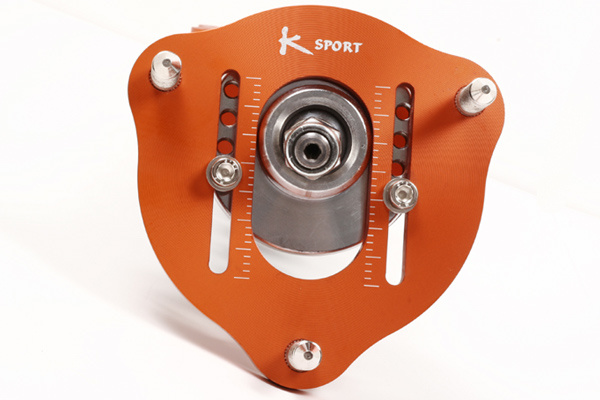 We have also upgraded our front brakes to the Fastbrakes Edition Wilwood Brakes.  Special thanks to Mike Kojima of MotoIQ for helping us out with these.  When doing the install, we ran into an issue with the caliper brackets.  The kind folks at Fastbrakes were able to get us a new set of brackets and hardware.  The caliper/rotor setup was their first version and a little outdated…but some new caliper spacers and larger rotors were shipped out to update the "outdated" setup.  We are looking forward to putting these to the test with the additional power we plan to add.  We also teamed up with Team Dynamics Wheels and picked up two sets of their Pro Race 1.2 wheels in 15×7 +35 — One set in black, and a white set to be imported from the UK!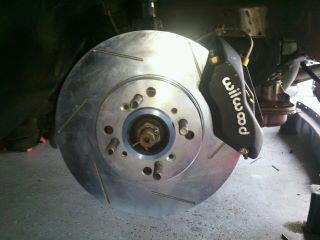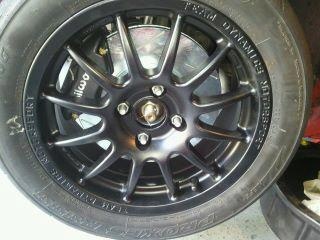 Aerodynamics:
Last year we ran the Lowe's Edition rolled aluminum as our air dam to bridge the gap between our stock bumper and the APR front splitter.  The "Badass" factor quickly faded after the first time we loaded the car on the trailer and messed it up.  The two times on track resulted in multiple pits in the aluminum as well as shredded aluminum sticking out and cutting my legs every time I walked by!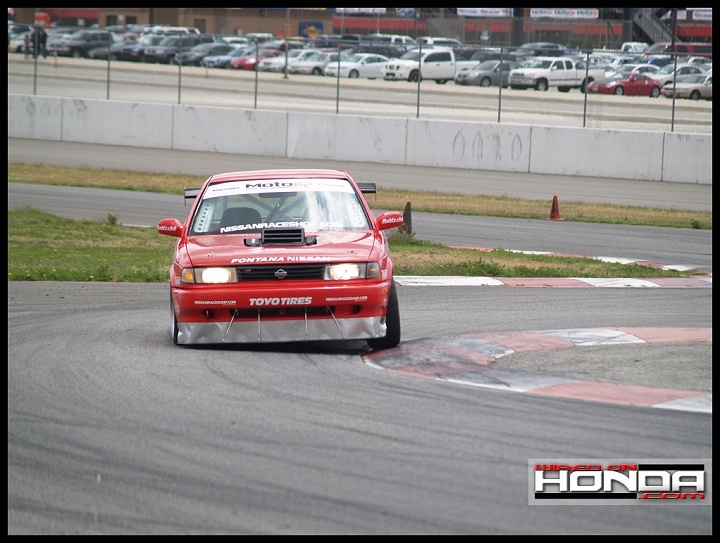 The goal now was to find a new from bumper that would hang 4-6 inches lower than stock so we could use our splitter without an air dam.  Multiple hours surfing the web on aftermarket bumpers left us with a bad taste in our mouth as there really wasn't anything available that didn't look like one of those funky hondas in the Walmart parking lot.  Behold, we found that Extreme Dimensions makes a Nissan R33 replica bumper made of duraflex.  This bumper hangs down 4 inches below the stock bumper and should work great with the splitter.  When we tried it on for a test fit, we found that it was a full 3-4 inches wider than the stock bumper.  This proposed a huge problem for us.  The kind folks at Extreme Dimensions were happy to look through all their stock and found another that was within 1.5 inches of our stock bumper. Not exact, but we will have to make do.  This should really make a huge difference with cooling as it has huge openings for the coolers and radiator.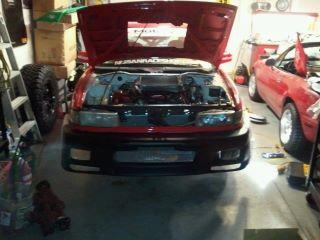 Engine/Drivetrain and Cooling:
After suffering from turbo failure, we initially thought we could run and upgrade to a Synergy 20G Turbocharger.  This was exciting as we knew it would be able to easily give us the bump in power we'd need.  The differences in turbos was too big…and we finally decided to decline the offer to prevent the can of worms we'd have to open in order to make it work.  Instead, we took our blown turbocharger to Performance Techniques in San Bernardino, CA and got a full rebuild with a 2 day turnaround.  After re-installing the turbo, the next step was to prepare for the increase in power.  We upgraded to MSD 520 injectors and a Z32 MAF.  Once these items were done, it would be time to take the car back to Clark Steppler, master tuner at Jim Wolf Technology.  Due to time constraints, the vehicle was just not ready to tune, and causing my own embarrassment, we had to load it up and make the trek back home to work on the list given to us to finish.  Did I mention it was a long drive home?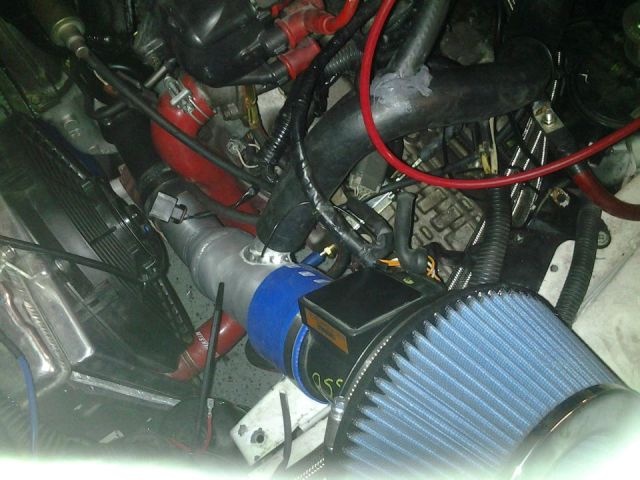 With the new "to do list", it was time to get to work.  With the help of my good friends and pit crew, Logan and Robert came out on a saturday and helped to finish up a few of the neglected items that needed to be finished or fixed.  We still needed to finish up the cooling — Oil Cooler and Transmission Cooler/pump.  For even more additional cooling, we are using the Snow Performance Water/Methanol Injection Kit.  This not only raises the effective Octane Rating and cools the intake temps by a large percentage.  We ran this kit on our previous build and honestly feel this has saved our motor from detonation. 
Logan is a master fabricator and was able to make us a new intake made of 6061 aluminum and currently working on our new BOV piping and hood scoop.  These items should be done within the next week or so.  We also were able to fix a few of the misc leaks and thought we'd be ready for tuning the following week.  As with most things…fix one issue and you'll find the next one.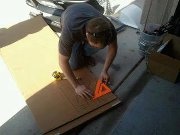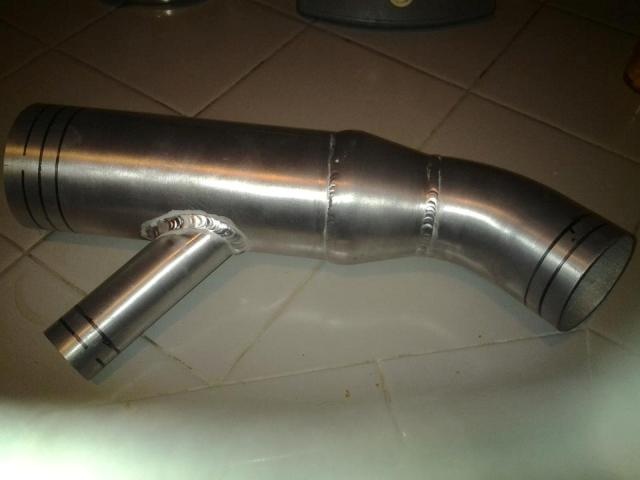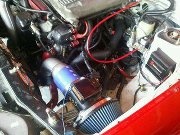 This time a larger "opportunity" decided to show itself.  Milky oil and missing water from the radiator were sure signs we have a head gasket blown.  Not to be stopped in our efforts to get the car on track, we contacted the folks at OSR Dyno in Fontana, CA.  Reggie at OSR  Dyno has several years experience working with this rare GTi-R motor and we have full faith that it is in the right hands for the job.  Reggie will be removing the head and checking for other damage while in there.  Once we get it back and complete, it will be time for tuning again.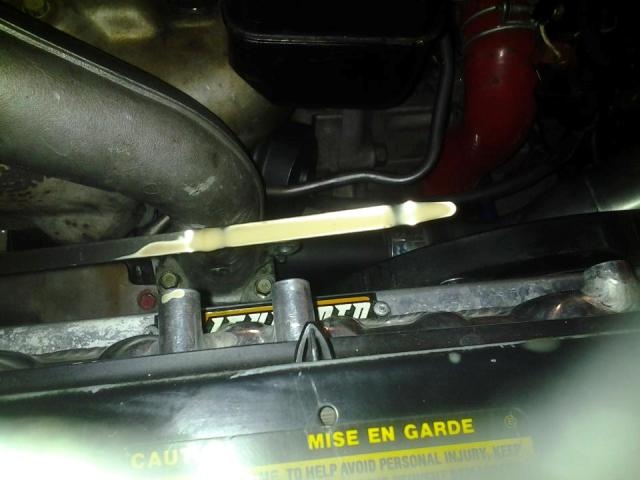 Stay tuned as we release more information on the build!

Special Thanks To Project SHART's Sponsors:

Robispec Full Chassis Preparation

Team Dynamics Wheels

Snow Performance
KSport Suspension

Whiteline Suspension

Turbosmart

Toyo Tires

Jim Wolf Technology

APR Performance

Sparco USA

CSF Radiators

Mishimoto

Buddy Club USA

And a special thanks to Mike Kojima of MotoIQ for his continued support and guidance.